Principal launches Principal Islamic Global Responsible Equity Fund for investors seeking a sustainable investing strategy adhering to Shariah principles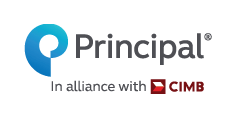 ​
27 March 2023
(Kuala Lumpur, Malaysia) – Principal Malaysia ("Principal") has introduced a Shariah-compliant investment fund designed to meet Malaysian investor demand for funds with a sustainable investing objective that consider environmental, social and governance ("ESG") factors. The Principal Islamic Global Responsible Equity Fund ("The Fund") provides investors an opportunity to sustainably invest across a diversified portfolio of equities. The Fund aims to invest in companies that are not only fundamentally attractive, but also embrace strong sustainability values in their businesses.
"The introduction of the Principal Islamic Global Responsible Equity Fund intends to provide customers with a range of Shariah-compliant investment opportunities that meet their evolving needs," said Munirah Khairuddin, chief executive officer and country head of Principal Malaysia. "At Principal, we seek to offer investors a choice of innovative solutions aiming to build, protect, and advance their financial well-being, while also achieving favourable outcomes for people and the environment. With increasing interest in funds focused on sustainability and which can deliver both positive impact and returns, we hope this launch will allow more investors in Malaysia to invest sustainably and responsibly."
The Fund feeds into the Islamic Global Responsible Equity Fund, which is the Target Fund managed by Principal Islamic. As a qualified Sustainable and Responsible Investment fund in Malaysia, the Fund may be suitable for investors who seek exposure to Shariah-compliant global equities and have an investment horizon of at least five years.
"With growing consciousness around sustainability issues, we believe that offering investments with ESG values may translate to outperformance over the medium to long term," said Patrick Chang, chief investment officer (CIO), Malaysia and CIO Equities, ASEAN "The investment team considers companies demonstrating sound principles of sustainability in their governance structures and regularly engages them to encourage continued improvement for successful long-term performance."
The Fund seeks to provide capital growth by investing in a globally diversified portfolio of equities which demonstrate positive fundamental change at attractive relative valuations. Additionally, Principal applies screening to specifically consider the portfolio's exposure to carbon intensive companies ("carbon risk level") and aims for an aggregate carbon risk level 15% lower than the benchmark index. On investee companies' accounting aggressiveness1, Principal identifies the portfolio's exposure to companies ranking below average relative to global peers and aims for an aggregate accounting flag weight lower than that of the benchmark index. This is in addition to the fixed social criteria in place to exclude investing in companies or issuers which do not meet Shariah requirements.
____________________________
1 Accounting aggressiveness refers to accounting practices that are designed to overstate a company's financial performance
For more information, visit www.principal.com.my.
-end-
Disclaimer: We recommend that you read and understand the contents of the Prospectus for Principal Islamic Global Responsible Fund dated 27 March 2023 which has been duly lodged with the Securities Commission Malaysia (SC) before investing and that you keep the said Prospectus for your record. Any issue of units to which the Prospectus relates will only be made upon receipt of the completed application form referred to in and accompanying the Prospectus, subject to the terms and conditions therein. Investments in the Fund are exposed to risks. You should understand the risks, make your own risk assessment, and seek professional advice, where necessary. You can obtain copies of the Prospectus from the head office of Principal Asset Management Berhad, our website at www.principal.com.my or from any of our approved distributors. There are fees and charges involved in investing in the funds. We suggest that you consider these fees and charges carefully prior to making an investment. Investors have the right to request for the Prospectus, Product Highlights Sheet (PHS) and any other product disclosure document; and the documents should be read and understood before making any investment decision. Unit prices and income distributions, if any, may fall or rise. Past performance is not reflective of future performance and income distributions are not guaranteed. You are also advised to read and understand the contents of the Financing for Investments in Unit Trust Risk Disclosure Statement before deciding to obtain financing to purchase units. The registration of the Prospectus with the SC does not amount to nor indicate that the SC recommends or endorses the fund, and the SC does not review advertisements produced by Principal.
Integration of environmental, social and governance (ESG) factors is qualitative and subjective by nature. There is no guarantee that the criteria used, or judgment exercised, will reflect the beliefs or values of any particular investor. Investment teams have a high degree of investment process autonomy and may consider or weight ESG criteria or factors differently (or not at all). For those teams that consider ESG factors as part of the investment process in strategies that are not explicitly ESG-oriented, those ESG factors are generally no more significant than other factors in the investment selection process, such that ESG factors may not be determinative in deciding to include or exclude any particular investment in the portfolio. Information regarding responsible practices or other ESG data differs by source and may not be accurate or complete. Integration of ESG factors may present additional advantages or risks, may not protect against market risk or volatility, and under certain circumstances may detract from investment performance. You should not make any investment assumptions based solely on the information contained herein. Information is provided as additional insight into the relevant investment processes and should not be viewed as a change in an investment team's underlying investment objectives, strategies, risk parameters, or portfolio construction guidelines. There is no assurance that any strategy or integration of ESG factors will be successful or profitable.
About Principal Malaysia
Principal Asset Management Berhad (Principal Malaysia), is a joint venture between Principal Financial Group®, a member of the FORTUNE 500® and a Nasdaq-listed global financial services company and CIMB Group Holdings Berhad, one of Southeast Asia's leading universal banking groups.
Established on 13 June 1994, Principal Asset Management Berhad is headquartered in Malaysia with footprint across Indonesia, Thailand, and Singapore. In Malaysia, the company serves more than 2 million investors with unit trusts, retirement schemes, discretionary mandates, and asset management solutions to help make financial security accessible to more investors.
Principal is committed to expanding the population of those living in financial security, doing so through long-term, responsible actions, and creating opportunities for generations to come.
For more information, visit www.principal.com.my or follow us on
www.facebook.com/PrincipalAssetMY/.
Principal, Principal and symbol design are trademark and service marks of Principal Financial Services, Inc. a member of the Principal Financial Group®.
About Principal Islamic
Principal Islamic Asset Management Sdn Bhd (Principal Islamic) offers holistic Shariah-compliant asset management solutions with end-to-end processes in accordance with Islamic principles. As a joint venture between Principal Financial Group, a FORTUNE 500® and Nasdaq-listed global financial services company with more than 143 years of experience and expertise in investment, retirement and insurance solutions; and CIMB Group Holdings Berhad, one of Southeast Asia's leading universal banking groups, Principal Islamic brings the best of capabilities from both the East and the West to provide bespoke investment solutions to help individual and business investors achieve their financial goals.
Principal Islamic also offers Undertakings for Collective Investment in Transferable Securities (UCITS) funds and wholesale funds. It is the only Islamic asset management boutique for Principal Financial Group that promotes Shariah-compliant strategies and solutions not just for Muslims but also for non-Muslims across the globe.
Principal Islamic has received numerous accolades for its leadership in Shariah-compliant industry. Among them include Best Islamic Asia Pacific Asset Management House (The Asset Triple A, Finance Awards), Best Asset Manager for Islamic ASEAN Equity Funds (Alpha Southeast Asia's Fund Management Awards) and Best Islamic Asia Pacific Asset Management House (Insurance Asia News - Institutional Asset Management Awards). As part of its commitment to uphold the highest standards of integrity in investments, Principal Islamic also became a signatory of the UNPRI in 2019 (as part of Principal Asset Management (Southeast Asia).
As of December 2022, Principal Islamic manages approximately RM28.82 (USD 6.35) billion in Shariah-compliant assets under management, by earning the trust of investors from Australia, Europe, the Middle East and Southeast Asia. Its dynamic investment capabilities enable it to provide the best Shariah-compliant financial solutions to meet the unique needs of customers from all portfolio sizes.
For more information, visit www.principalislamic.com