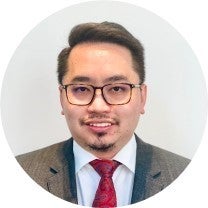 Mohd Haniz Mohd Nazlan, Non-Independent Non-Executive Director
Haniz is Group Chief Strategy Officer at CIMB, where he oversees Group Strategy, Performance and Programme Management, Group Customer Experience, Transforming Customer Journeys, Group Corporate Finance and Investment Management as well as the Group CEO's Office. Haniz has over 15 years of experience in areas of corporate strategy, corporate finance, mergers & acquisitions, project management, portfolio and asset management, global equities and real estate investments.
Prior to joining CIMB in April 2021, Haniz was the Chief Investment Officer of Lembaga Tabung Angkatan Tentera ("LTAT") from August 2019 where he was accountable for all investment functions and activities in the management of LTAT's investment portfolio. He played a key role in setting LTAT's turnaround plan in motion. This included the execution of restructuring plans for the investment portfolio, reorganization of the investment team as well as the strengthening of key investment policies and processes, one of which included the establishment of LTAT's long term Strategic Asset Allocation ("SAA") Framework.
Prior to LTAT, Haniz spent the larger part of his career at Permodalan Nasional Berhad ("PNB"). He served PNB in various capacities, including leading roles in the Group Chief Executive's Office, International Department, Strategic Asset Allocation Department and Investment Division. He played a key part in driving the establishment of PNB's SAA and Fixed Income Frameworks, planning PNB's new global operating model, setting up the unit trust funds' expansion into global markets and in leading key mergers & acquisition transactions for the PNB Group, both locally and abroad.
Qualification:
Haniz holds a BSc (Hons) degree in Actuarial Science from the London School of Economics and Political Science. He also holds a Masters degree and Postgraduate Diploma in Applied Finance & Investment, both from the Financial Services Institute of Australasia. He is a Certified Financial Technician (CFTe) and had also attended the Program for Leadership Development at the Harvard Business School.