4 min read    I     Date: 16 February 2022

Answer this question by doing a thorough calculation of your current income and expenses and comparing that to your expected future income and expenses. Try this super useful retirement calculator on the Private Pension Administration's (PPA) website. Just key in your age, current salary, EPF balance, PRS balance and readjust other options accordingly as well: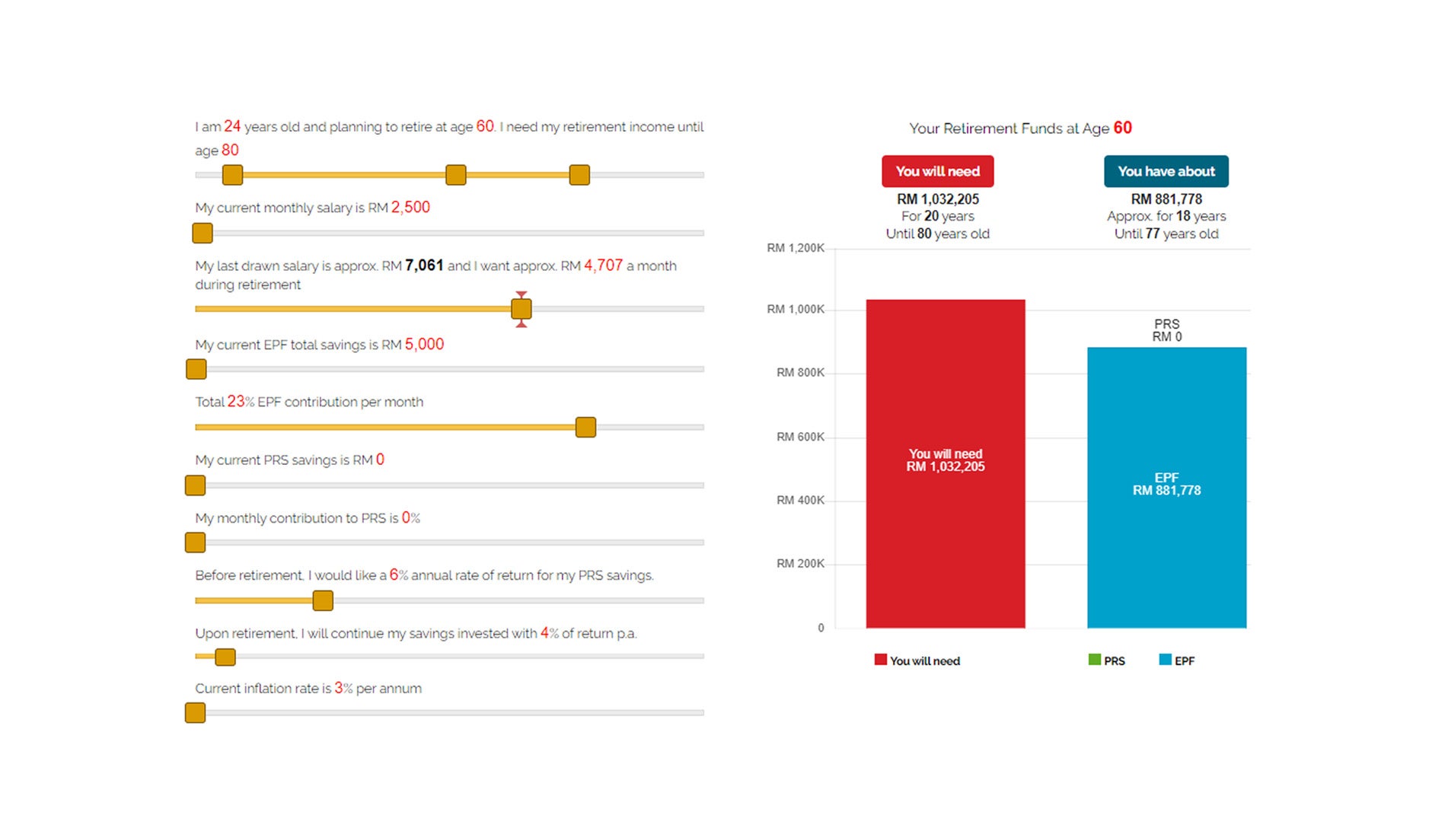 Alternatively, you could also try out this other free, basic retirement calculator we found online, since you may not have a PRS account. (google sheet here: https://bit.ly/3mHJpk7). By using the calculator, you can estimate how much you need to retire and how much you will need to save up to support that goal. You'll also get to see directly, the amount of savings you'll likely need to have by the age of 60.  Besides figuring out the amount of money you'll need to retire and how much money you'll need to save up to live comfortably, you'll also need to estimate how long you will live post-retirement. As morbid it sounds, doing this sooner than later helps you plan for your future earlier on. 

Based on the average life expectancy by the Statistics Department—and factoring in the fact that life expectancy in Malaysia is predicted to increase with time—it's fair to assume that Malaysians are expected to live for roughly 15 to 20 years post-retirement. Hence, your retirement fund should be adequate to last for that whole duration. Whether you decide to retire at 55 or 60, there are just things in life that you can't control, so best to consider everything from a financial perspective rather than just relying on personal goals and ambition. In other words, the best time to retire is when the combined money from your EPF, PRS, investments, and/or saving accounts are sufficient to cover your ideal retirement lifestyle.

 
What to do next?
Not sure what's right for you, or interested in a truly personalized approach? Consider reaching out to a financial consultant. (We can help you find one.) They can help you discover your goals and advice you based on your risk tolerance.

In the meantime, here's what you can read on how to: