3 min read    I     Date: 23 December 2021
( In partnership with imoney )

Having goals is an important part of life, and it's even more important for building your investment portfolio. Without goals, all you're doing is watching your investments with no clear plan – which can lead you to investing less and more impulse buying.
With 2022 approaching quickly, now is a good time to think about your finances. Do they appear to be where you want them to be? Has your investment portfolio performed as well as you hoped for? And what do you want to achieve in the coming year?
Don't wait until the end of the year. You can start reviewing your year-end results and set goals for the new year now.
Prepare your investing journal for 2022 now
Before you start deciding on what you want to achieve in 2022, you must first have an idea of what's coming up. To help, here's a useful calendar of key financial dates to help keep you on track when it comes to your investment goals next year.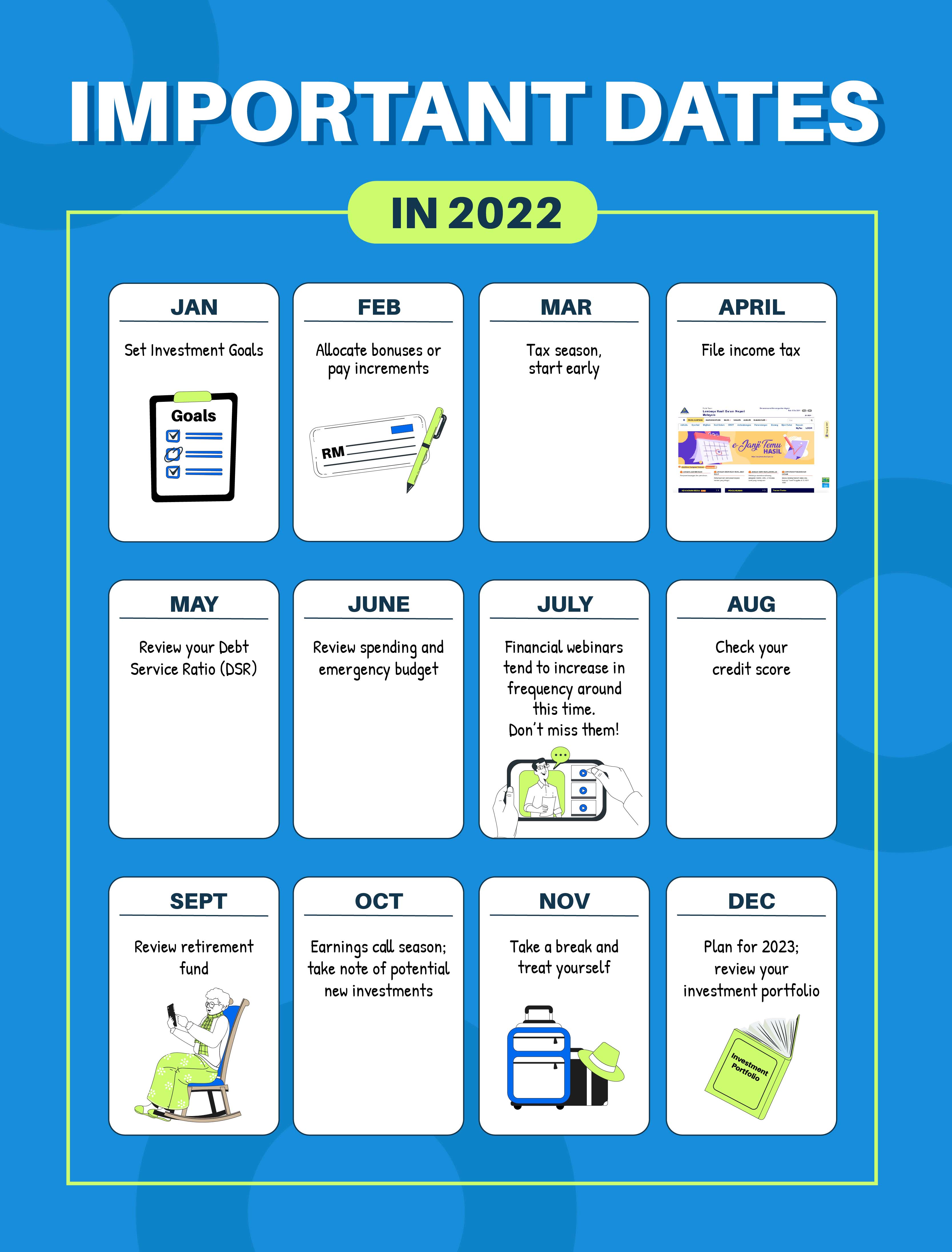 When setting your investment goals, always keep in mind the timeframe needed to achieve them realistically as well.
Set your short. medium, and long term financial goals
Most people usually invest in medium and long term goals. In financial terms, this could mean that you are prepared to wait five or more years to see the results of your investments.
However, you should always set yourself short term goals as well. This could be something smaller, like diversification into new investments or it could be as simple as reminding yourself to rebalance your portfolio every year.
In your financial plan, you should identify all your goals , from the more immediate ones, which may be related to your expenses in the coming months, to those big-picture goals that may be 20 years down the line.
Here's an example of how you can structure your goals:
Just remember that investment goals can be for important necessities like building capital for a home purchase, or retirement but also to fulfill your passion such as travelling abroad for a nice holiday.
Setting and achieving your short-term goals can also give you the boost you need to continue working towards the long-term ones that may take decades to achieve.
 
How to set up your investment goals 
The key to setting investment targets is to know what you want to do with it. It's easy to say that you want RM1 million by age 40, but it may be easier to motivate yourself by saying you want to retire by that age instead.
At the same time, knowing what you're investing is important for you to figure out how much you'll need to achieve it. Plus, you will be less likely to cash in your investments to pay for something else if you have a clear idea of what you want. In short, be SMART (specific, measurable, actionable, realistic, timely).
That acronym is widely used in workplaces and schools to refer to organisational and academic goals, but it makes perfect sense to apply them to your investment goals. The Australian Investors Association recommends that you use the SMART format when determining your goals as follows:
S

pecific –

make each goal clear and specific

M

easurable –

frame each goal so that you know when you have achieved it

A

ctionable/

A

chievable –

you need to be able to take practical actions to achieve a goal

R

ealistic –

A goal must be relevant and realistic

T

imely –

Each goal should have a timeframe assigned to it so that you can track your progress
Using this system, you can start setting up your investment goals using the following steps: 
Step 1: Use the SMART format to write down your goals
Step 2: Make a plan for how you will achieve your goals (e.g, invest RM300 each month, stop drinking boba tea every day, etc.)
Step 3: Make a plan for reviewing your goals
You might also want to use apps or spreadsheets to help you keep track of your progress. Budgeting apps are plentiful in both the Google Play Store and the Apple App Store, and can help you stay on track if your goals are to reduce your monthly spending or increase investments.
You can also download the Principal's Budgeting Worksheet to help you plan your investment goals. It will help you get organised, and includes calculations on how to best manage your monthly expenses.
What to do next? 
If you're new to investing, or looking for a financial consultant, we have you covered. We offer a wide range of investment solutions to help you meet your financial goals.
Our team of financial experts will help you define and plan your investments to achieve your dreams. Get advice on how much time to set aside for each of your goals, and where to start working towards them.
Regardless of whether you are looking to increase your retirement savings through EPF i-Invest or are looking to build capital through unit trust, we have the right tool for you. Ethically minded investors can also refer to our range of Shariah-compliant funds to meet your needs.