Health care.
It's one of the largest expenses you can expect in retirement, after housing, transportation, and food.1 And it's not likely to go down. Why?
People are generally living longer in retirement.2 
Health care inflation continues to rise faster than the rate of general inflation.3
Chronic illnesses and age-related health problems have increased. 
Medical costs are generally not categorised as part of retirement planning. In reality, it forms a large portion of what retirees pay during retirement. It's really a broad category of expenses to plan for, including dental, vision, hearing aids, prescriptions, and even long-term care. With medical costs climbing, it's never too early to plan for health care expenses in retirement, even if that's still 10 or 20 years away. 
Out-of-pocket health care costs: How much should you expect?
How much you pay out-of-pocket for health care in retirement depends mostly on your age, overall health, where you live, income, and if you have any supplemental coverage. But in general, many are projecting the cost of healthcare to increase by 19%4 and health insurance premiums to increase by 25%5.
Why such an increase? Many cite the cost increase due to population growth, aging population, disease prevalence/incidence, medical service utilisation and service price and sensitivity.
The top four encountered diseases and costs today to provide care for these diseases range between RM40K – RM5.2 million (depending on public or private care)6: 
Heart Attack (RM40k –RM 2 million)
Stroke Attack (RM150K – 5.2 million)
Cancer (RM 50K – RM 250K)
Diabetes (long-term care)
How can you plan?
It's important to fund your retirement accounts at the maximum amount you can afford. Just know that a decent-sized portion of what you save will likely be needed for health care. That means, making sure you contributions to Private Retirement Scheme can supplement the shortfall of your EPF savings. If you don't plan for your health care in retirement, you're missing out on a key component of planning for retirement.
One good way to start saving more for retirement is to increase your retirement investments you get a salary increase or bonus. If your salary goes up 3%, it is wise to contribute  1–2% of that and directing it toward your retirement.
When you invest through PRS, if you experience a permanent total disability, serious disease or mental disability, you can take tax-fee withdrawals before 55 from either Sub-account A or Sub-account B.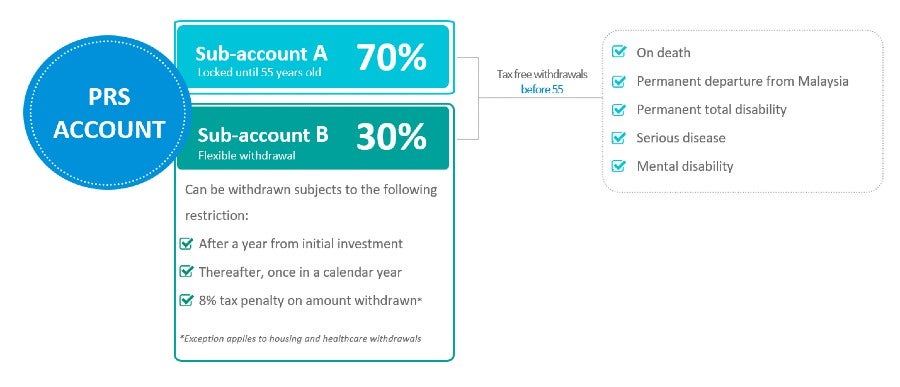 Please note: Under the current Movement Control Order additional withdrawal provisions have been made possible. Please contact us for details.
1 EBRI Issue Brief, no. 492 (Employee Benefit Research Institute, October 2019). 
2 National Center for Health Statistics data brief No. 355, January 2020. 
3 Bureau of Labor Statistics, 1978-2019, inflation visualized by DataPool, September 2019.  
4 Malaysia Sees Sharp Increase In Health Insurance Premium, Business Insider Malaysia, 22 April 2014
5 Rising pressure of healthcare cost, Retire Method, April 2013
6 As shared by Dr Shahruniza Md Shahir, KPJ Rawang Specialist during Principal PRS Conference, 2019 October.