Securing Yourself Financially for the Future: How to Prepare Yourself for Retirement

10 mins read I Date: 20 June 2023
(In partnership with The Star)
FINANCIAL literacy is the ability to understand and manage one's finances, which includes aspects such as budgeting, saving, investing and planning for the future.
It is a crucial aspect of personal finance, yet many Malaysians today still lack the knowledge and skills needed to make informed financial decisions with their hard-earned cash.
According to the Department of Statistics Malaysia, our country is considered as an ageing society, with the percentage of the population aged 65 and over increasing from 7% in 2021 to 7.3% last year.
With low financial literacy levels in our country, it seems as though many Malaysians aren't very well prepared for their retirement, as the Finance Ministry stated that recent Employees Provident Fund (EPF) statistics show that 51.7% (6.62 million) of its members aged 55 year old and below have minimal retirement savings of less than RM10,000 in their accounts.
If you aren't one of those people, you may be inclined to believe that you'd still have more than enough money for when you retire. But with inflation and rising costs, how sure are you that the amount you have now will still be enough come retirement?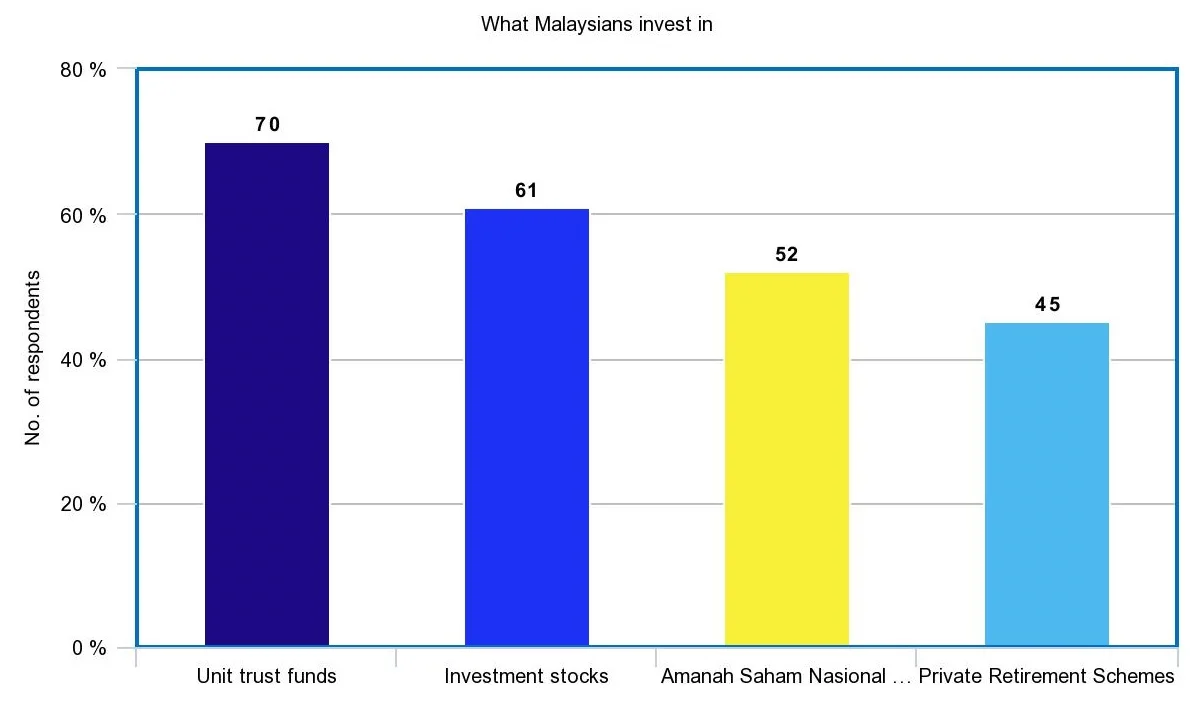 Based on a survey conducted by Principal Asset Management Berhad (Principal), in collaboration with iMoney (September 2022), the survey showed that large portions of respondents have other investments to help cover any shortcomings in their EPF savings.
These respondents invested in unit trust funds, investment stocks, private retirement schemes and Amanah Saham Nasional Berhad (ASNB).
Many have also invested in property, insurance, gold and cryptocurrency.
However, 68% are still unsure and not confident in their retirement plans.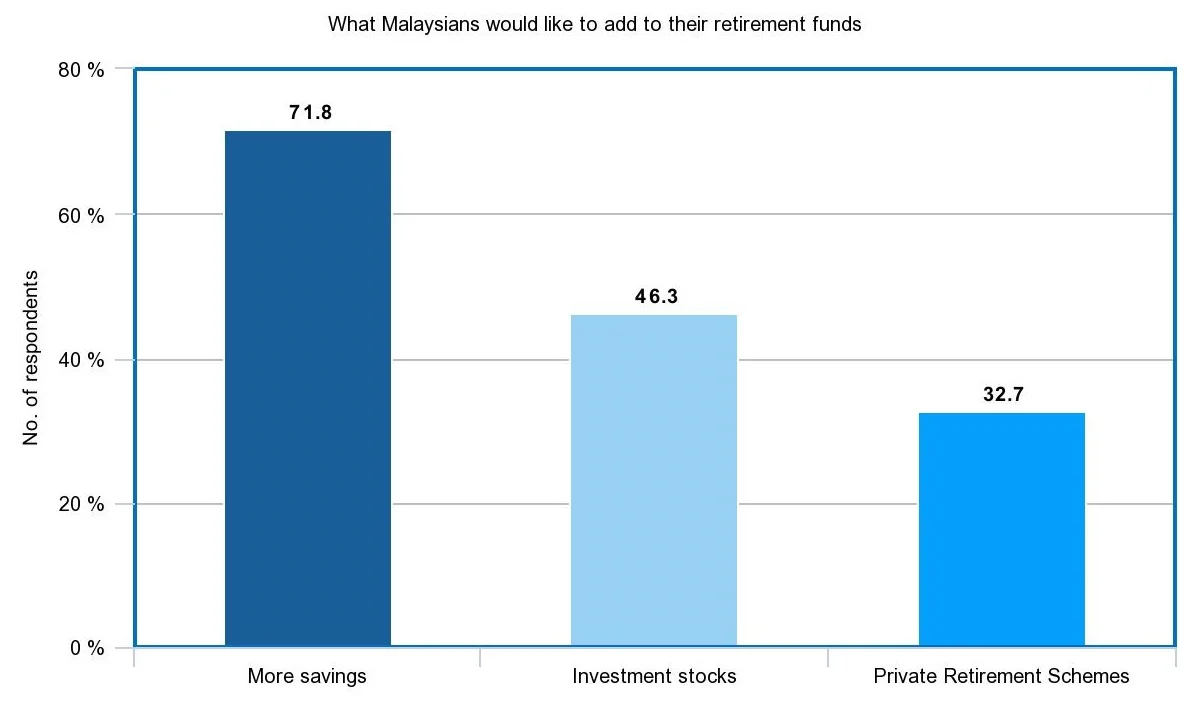 The majority of Malaysians want to add more savings to their retirement funds, as they recognise the need to save more for their golden years.
Many would also like to add diversity to their retirement funds through avenues such as investment stocks and private retirement schemes.
However, only 39.4% of those surveyed are actively saving 20% or more of their income to prepare.
87% of Malaysians also still use EPF as the primary source for accumulating their retirement funds, which isn't necessarily the only or best way to go about saving for your future.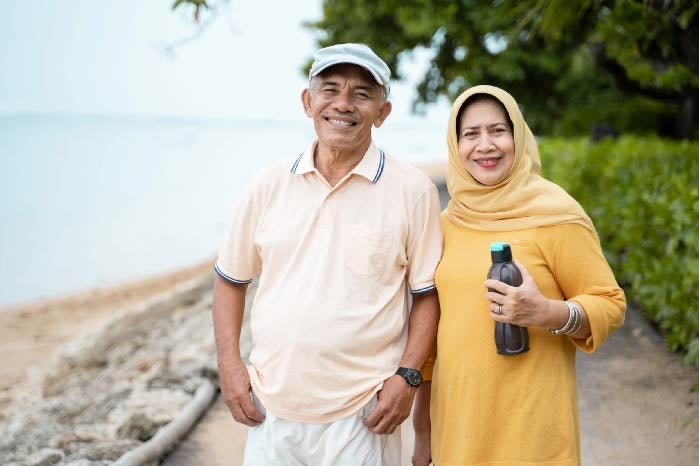 Grow Savings
It's never too late to start accumulating your savings. The earlier you start, the more impact you could have on your retirement outlook.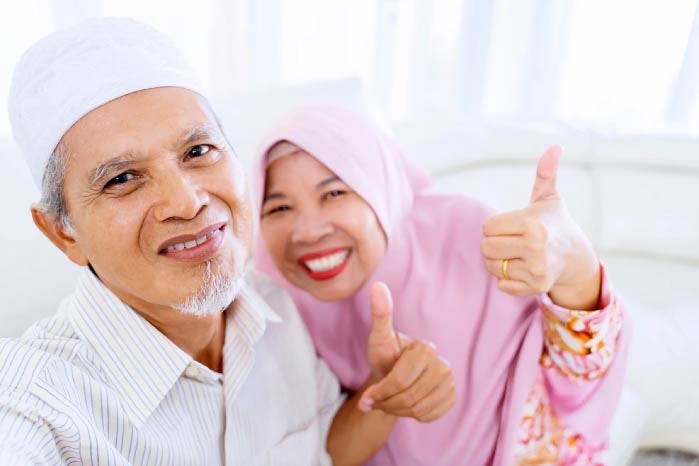 Compound Earnings
With compound interest, you could be earning interest on interest. You earn interest on the money you start with, as well as the money you add later, plus all the interest that collects over time. This gives you a larger total amount to earn future interest on, leading to even more growth.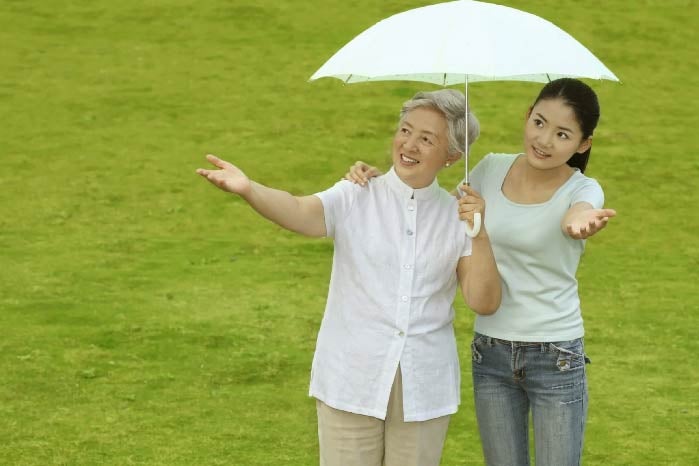 Hedge Against Inflation
With the economy in a mist of uncertainty, as the touted inflation looms near, getting ahead on your retirement savings could give you that added protection against the declining purchasing power of money.
Select the Right Investment Partner
Trying to do it all on your own can be pretty daunting, that's why there are professional investment partners out there, like Principal, to help you on your financial journey.
Additional Retirement Savings
One way that Malaysians can increase their savings potential for a cushy retirement is to complement their mandatory savings with additional savings or investments like unit trust funds and private retirement schemes.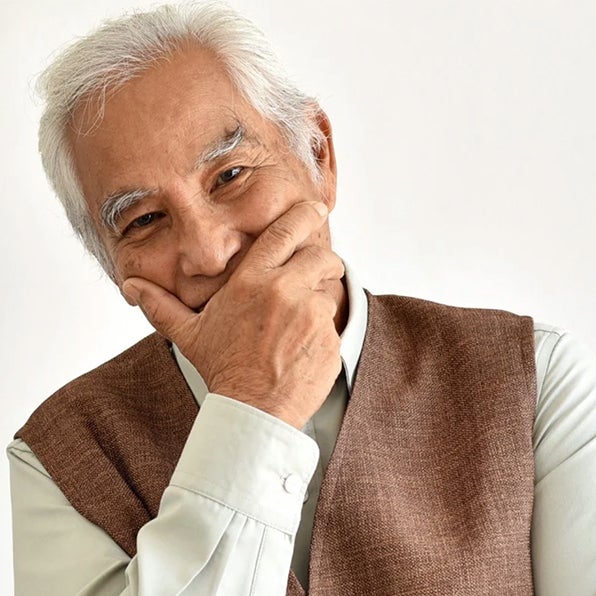 How to Get Ahead on Retirement Planning?
One thing that most people would probably overlook when starting their retirement savings plans is getting help with your finances.
However, it is never too late to get help. Whether it be to start your retirement planning journey, set up your private retirement fund, increase your investment exposure or to diversify your EPF savings, Principal can help you through it.
Through its services, Principal aims to help Malaysians take control of their finances, be confident with their retirement plans and not worry if their EPF savings will be enough.
Saving and Investing, the Right Way
Unit Trust Fund
---
Unit trusts are simple and convenient investment options for people who have a long-term investment horizon, but do not have either the time, desire or expertise to invest directly in financial markets.
It is also suitable for smaller, first-time investors as it offers an opportunity to diversify a portfolio of assets with a relatively small investment.
Also known as managed investments, a unit trust fund allows you to pool your money with that of many other investors so that it can buy a wide range of investments which will be managed by a professional team.
These include investments which may not usually be available to you through direct investments such as large commercial properties and corporate bonds.
Private Retirement Scheme (PRS)
---
The PRS, for example, is a voluntary scheme that lets you take the lead on boosting your total retirement savings, which also covers a variety of risk classes.
These PRS funds are a perfect complement to EPF member savings and help ensure that you have enough to have the retirement lifestyle you dreamed of.
Investing in Principal PRS funds can be done by going through a Principal distributor (consultant or local bank) or you can enrol online through the PRS platform.
Plus, with PRS, there are tax advantages as well. Every year, you could enjoy personal tax relief, in addition to the RM6000 per year tax relief for the mandatory retirement savings contribution and life insurance premiums – which could amount to RM840 per year, depending on your tax bracket.
But these funds aren't the only options for one to diversify their savings portfolios as Principal understands that every person's financial journey is different.
No matter their financial background, stage of life or portfolio size, the company believes that it can help customers make progress in their financial journeys with a myriad of options, like the PRS and Unit Trust funds, for its customers to utilise.
What to do next?
If you need any investment assistance, please get in touch with your financial consultant. (We can help you find one). They can assist you with your investment goals and advice you on your risk tolerance.
Alternatively, you can also manage your portfolio on the go, anytime, anywhere via our online investment portal.
If you need further assistance, please leave your details here, and we will connect with you.
Disclaimer:
You are advised to read and understand the relevant Prospectus, Information Memorandum and/or Disclosure Document including any supplemental thereof and the Product Highlight Sheet (if any) before Investing. Among others, you should consider the fees and charges involved. The registration of the relevant Prospectus, Information Memorandum and/or Disclosure Document including any supplemental thereof and the Product Highlight Sheet (if any) with the Securities Commission Malaysia (SC) does not amount to nor indicate that the SC recommends or endorses the funds. A copy of the relevant Prospectus, Information Memorandum and/or Disclosure Document including any supplemental thereof and the Product Highlight Sheet (if any) may be obtained at our offices, distributors or our website at www.principal.com.my. The issuance of any units to which the relevant Prospectus, Information Memorandum and/or Disclosure Document relates will only be made on receipt of an application referred to in and accompanying a copy of the relevant Prospectus, Information Memorandum and/or Disclosure Document. Please be advised that investment in the relevant unit trust funds, wholesale funds and/ or private retirement scheme carry risk. An outline of the various risk involved are described in the relevant Prospectus, Information Memorandum and/or Disclosure Document. As an investor you should make your own risk assessment and seek professional advice, where necessary. Securities Commission Malaysia does not review advertisements produced by Principal.