10 min read    I     Date: 26 August 2022
( In partnership with imoney )

​
We're halfway through the year as the world opens up, and investors are indeed on the lookout for the markets that will grow along with a burgeoning economy. And one such market that many investors should keep an eye out for is China.
As an economic powerhouse, China will continue to play a significant role in the global market as it starts to position itself for economic recovery and big growth.
We take a look at the economic data coming out of China and discuss the key policies and measures based on expert insights from Principal Asset Management.
What are the signs that point toward China's recovery?
Based on the data compiled by the World Bank from 2011 to 2021, China's economic performance consistently remained at about 5% GDP growth with its highest being at 9.55% back in 2011.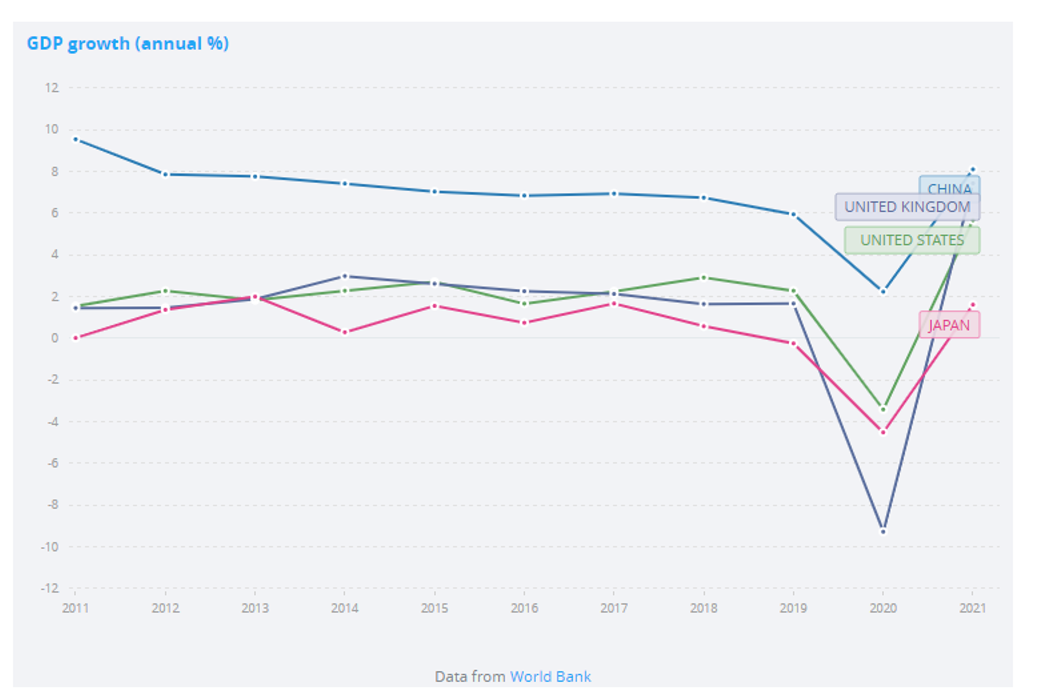 ​
China, United Kingdom, United States, Japan 2011-2021 GDP Source: World Bank. Disclaimer: Please noted that past performance is never a guarantee of future returns.
In 2021, however, China recorded an 8.1% GDP growth which is the fastest the country has experienced in 10 years. The GDP growth experienced by China beats market expectations, narrows the gap with the US and could possibly surpass the US by 2028.
This boost in growth, which overshot the government's targeted expectation of 6.6%, further solidifies China as the world's second-largest economy and lays the foundation for a steady economic recovery path.
Here's what you need to know about China's investment outlook
While the boost in GDP builds confidence for investors in China, it is the key market "signifier" that investors should be aware of that shows the country's path to economic recovery.

From the ease of Covid restrictions in Beijing and Shanghai to the recent PMI index performance in June, the country has started to lay the foundation for a stronger economic return in 2022 and beyond.

The experts at Principal have highlighted the following 5 key signs to look out for in terms of China's investment outlook.

Point 1: Positive GDP performance even during the pandemic

In 2020, most major economies were reeling from the effects of the pandemic with countries such as Japan, the United States, and the United Kingdom, all reporting a negative GDP growth rate.

China, however, was able to record a positive GDP growth rate of 2.3% in 2020 and was the only major world economy to do so during the height of the pandemic.

Thanks in part to its fast and sustained response to the coronavirus, China was still able to economically expand and is expected to continue the trend with economic growth of 4% in 2022.

Point 2: Effective control and prevention of Covid outbreaks






The constant restriction placed by the government on Covid outbreaks has been the major factor for foreign investors being wary of investing in China. The two-month lockdown experienced by Shanghai and other Covid-related restrictions has led to the overall number of investment deals dropping by 29% compared to last year.

Since then, the government has started to ease its Covid restrictions and lockdown policies to bring foreign investors back into the Chinese market. This, coupled with reducing the quarantine period to one week, has brought a much-needed boost to the country as well as a possibility of it moving beyond the "Zero-Covid" policy.

Point 3: Government measures to stabilise the economy

In addition to the easing of Covid restrictions, China has also introduced economic stimulus packages that are expected to boost growth and lead to a major rebound in the economy.

The 33 detailed policy measures cover six major areas such as fiscal and monetary support, stabilising investments, promoting consumption, food and energy security, as well as stabilising the supply chain.

Point 4: A strong rebound in PMI and beating market expectations

One indication that could point towards China's market recovery comes from its recent purchasing managers' index (PMI) performance which experienced its fastest growth in almost a year in June 2022, after the easing of Covid restrictions.

​


The non-manufacturing/services PMI rose to 54.7 points in June, the fastest growth since July last year, while the manufacturing PMI jumped to 50.2 points.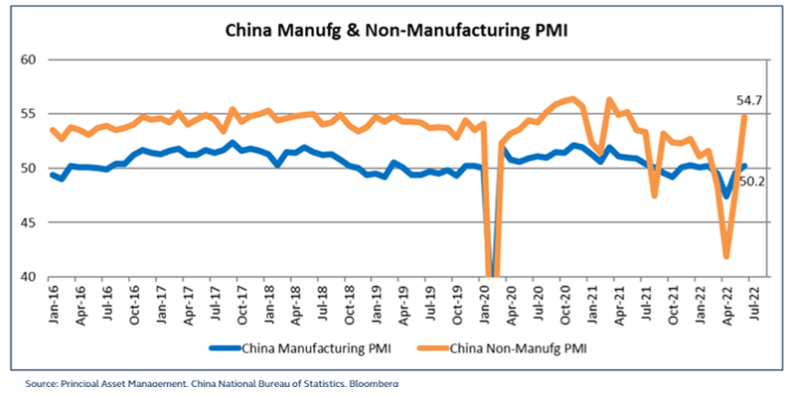 ​

The strong rebounds in non-manufacturing PMI indicate the increased demand in areas such as retail and road transport while the uptick in manufacturing PMI highlights the country's factory activity expanding at its fastest in 13 months.


Point 5: Renewable energy initiatives are showing good results

In the last decade, China has set ambitious targets for renewable energy. In its previous 5-year plan (2016-2020), the country had set targets to source over one-third of its energy sources from non-fossil fuel sources.

Today, it is the world's largest wind and solar energy producer. In 2020, more than half of the energy used for its national grid already comes from renewable sources. China also plans to increase its use of renewable energy sources up to 33% by 2025.

According to Principal, there are opportunities to benefit from China's move towards decarbonization, as well as the government's investments into the country's reopening with policy easing and fiscal stimulus.

 
What to do next?
Learn more about our online investment portal capabilities and benefits here. 

If you're new to investing, or looking for a financial consultant, we have you covered. We offer a wide range of investment solutions to help you meet your financial goals. Our team of financial experts will help you define and plan your investments to achieve your dreams. Get advice on how much time to set aside for each of your goals, and where to start working towards them.
Disclaimer
You are advised to read and understand the Prospectus, Information Memorandum and/or Disclosure Document including any supplemental thereof and the Product Highlight Sheet (if any) before investment. A copy of the said documents have been registered with the Securities Commission Malaysia (SC) and may be obtained at our offices, distributors or our website at [www.principal.com.my]. The registration of these documents does not amount to nor indicate that the SC has recommended or endorsed this product or service. The issuance of any units to which the said documents relates will only be made on receipt of an application referred to in and accompanying a copy of the relevant Prospectus, Information Memorandum and/or Disclosure Document. Investing involves risk and cost. You should understand the risks involved, compare and consider the fees, charges and costs involved, make your own risk assessment and seek professional advice, where necessary.